Event Details
2020 AC Special Events
Pending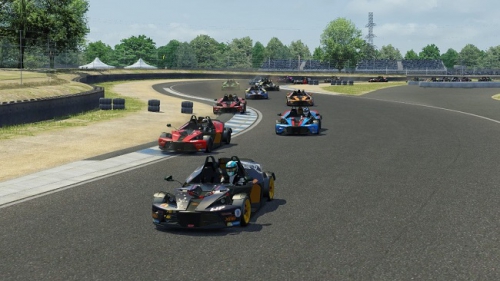 KTM XBB @ Blackwood GP
Assetto Corsa
Blackwood GP
Registration
This is an open league only event, which does not require pre-booking. Please log in or create an account to see the server password.
Names in (parentheses) have not yet been approved by the team owner
Names in italics are non-ACRL and/or guest drivers
Pre-Quali (PQ) is needed if the number of entries for an event may exceed the number a single server can accommodate. In these cases, a period of PQ will be run prior to the race, usually for at least a week, and if necessary the race will be divided into equal size splits, based on PQ times. See the Driver Briefing tab for details of the PQ servers. In championship events, there is usually a points bonus for being in a higher (faster) split.
This event has no Pre-Quali.
There are no results for this event
Names in (parentheses) are not ACRL members
Incident reporting closed on Friday June 26th 2020 07:00 PM Europe/Rome
Race Info
Event Starts

2020-06-21

07:00 PM Europe/Rome
Practice
60 minutes
Quali
10 minutes
Race
15 minutes
Race
15 minutes (reverse top 8)
Mandatory Pit Stop
No
Weather Forecast

Ambient temperature will be between 17C and 23C, scattered clouds, light to moderate breeze.
Pre-Quali Servers
There is no Pre-Quali for this event.
Race Servers
The race server allocation is based on the currently checked-in entry list, and (if the event has PQ) the current PQ standings. These often change rapidly in the last few hours before the race, so check back here immediately before the race to make sure you have the right details.
Server
Split
Password
Spectator Password
ACRL Race Server 1
1
******
Workshop Server
Workshops are events held (usually) the day before a main season event, featuring a short race at the same track, under similar conditions, to give people a chance to practice in a live setting.
There is no Workshop scheduled for this event.
Briefing
There are no additional briefing notes for this event.
Reference Laps
This is a collection of reference lap videos, contributed by our members. Feel free to contribute to this collection, by adding a clip of type Reference Lap to your My Clips collection on the My Stuff menu.
Video Clips
Logged in members can upload and vote for clips. If a clip is entered for an award, votes count towards the end of season awards.
Post Race Thread
No post race thread for this event yet