Details

Written by

Super User

Category: Home Page
Hits: 218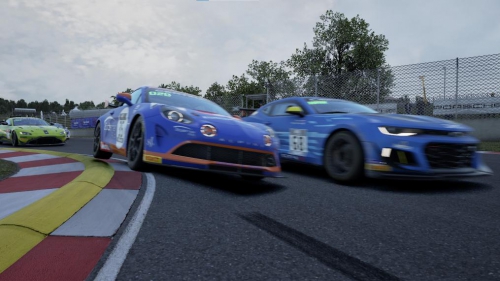 We are excited to announce a new season for ACC drivers, the GT4 Support Series. This is being run as a companion to our main ACC GT3 season, with races held on the Saturday of main season race weekends. GT4 events will be held at the same track as Sunday's GT3 race, with the same weather conditions, simulating a GT4 support race. The event format is two short sprint races, with a quali session for the first race, then a top 10 grid reverse for the second race.
Unlike the main GT3 season, drivers will be free to change their car selection during the season, enabling them to sample the various delights that the new GT4 DLC has given us. Judging by the 3 race GT4 Festival we ran when the DLC dropped, the racing will be tight, fierce and tremendous fun. So head on over to the GT4 Season 1 page, register for the season and check-in for a race.
Details

Written by

Pisani

Category: Home Page
Hits: 157
What could possibly be better than GT3? Well we all know more is better, so if you add 1 you get GT4!

With the release of GT4s for Assetto Corsa Competizione, ACRL is holding a GT4 Racing Festival with these easy to race but hard to master cars!

This GT4 Racing Festival comprises of two sprint races as part of a single event per evening.

To make the events extra fun you have free car selection per evening and the tracks are announced just before the festival gates open up!

Festival is scheduled for three days, starting from 16th of July and lasts three days 'till 18th of July.

Please sign up for the "season" and check-in to the events here.
Details

Written by

Super User

Category: Home Page
Hits: 92
The 2020 Porsche Supercup season is over, with Virginia International Raceway living up to its reputation of providing technically challenging, difficult but always exciting racing, and the results are in . Congratulations to the Drivers Championship winner Hugh Barter, in his first season with ACRL, and to the runners up, Biene Major and pumA. In the Team Championship, top step went to Northern Exposure (Dirk_P_Ho and SuperYam), with runners up DriveIn Autosport (Matteo Lorenzetti and Roberto Selle) and Supernova Racing 1 (BieneMajor and Pete Roll).